About Mike Smith-Wood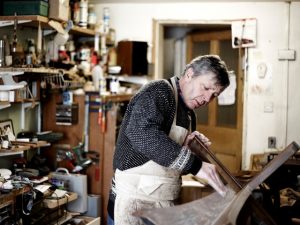 Mike Smith-Wood has over 40 years experience of furniture restoration and cabinet making and has been based at his current premises at 14 Suffolk Road, Cheltenham, Gloucestershire since 1990, trading as the Antique Restoration Centre.
He trained for two years as a cabinet maker at Rycotewood College, Thame, Oxfordshire and went on to specialise in Antique Furniture Restoration at West Dean College, Chichester.  This course was established in collaboration with the British Antique Dealers Association and Mike was one of the first to complete the BADA Diploma.  His tutors included John Bly of the BBC's 'Antique Road Show'.
Mike ran a successful furniture restoration business in Japan in the 1980s, restoring  both European and Oriental furniture.

During this time he became well enough known for Fuji  TV to make a documentary about his life and work in Japan; here is an excerpt from that half-hour documentary (Tokyo Workshop 1990).
His passion for antique furniture and restoration has grown over the years and he particularly admires Georgian furniture and antique Japanese furniture.